Program Site & Facilities
St. Thomas' partner organization in London, the American Institute for Foreign Study (AIFS), coordinates the on-site logistics of the program. AIFS staff members coordinate the student homestays, reserve classroom space, and make the community service placements, etc.
AIFS has an office directly across from the University of London Union (ULU).
Classes are held in the ULU or in nearby buildings of the University of London. Student services are provided by the AIFS staff from their building, Dilke House.

Students' mail may be sent in care of AIFS at this address:

Student Name
c/o AIFS
Dilke House
Malet Street
London WC1E 7JN
GREAT BRITAIN
Visit the AIFS site for more information:
Dilke House and the University of London Union are located in the Bloomsbury district of London, very near the British Museum. Using the Museum as a point of reference makes it easy to locate Dilke House on any London map.
The ULU contains a cafeteria, a bank, a bookstore, a workout room, and a student travel agency as well as classrooms. See the ULU web site at http://www.ulu.co.uk/.
Meet your 2013 Cohort!
2013 LBS Roster with Pictures.pdf
Housing
A typical homestay setting London Business Semester students live in homestays with British families. The homestays are usually in North London, in the Crouch End and Muswell Hill areas, on the Northern and Piccadilly Tube lines. Students may end up living with a retired couple, a family with children, or a single person.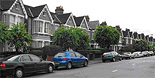 British homestay environments can be very different from American ones. A typical European home stay may treat students like borders, rather than as members of the family. However, no homestay is a "typical" homestay, and students will find varying levels of interaction with their home stay hosts.

My roommate and I lived in Northern London in an area called Hampstead, about a block away from Hampstead Heath. We lived with an older couple who were nice, had hosted many students over the years, and let us have our independence. We lived in a posh house, in a safe neighborhood, and were given our necessities. As college students who were living abroad for the first time, that's all we really needed. Breakfast was left on the kitchen table for us in the mornings and we were able to come and go as we pleased. Now, I only look back at my time abroad with fond memories. - Alex Hamel, past LBS participant
Health and Insurance Forms
Login to the AIFS website to download appropriate medical and insurance forms.

View information about insurance through AIFS here.