begin content
Your Gift Matters
Help St. Thomas Students Connect to the World
It may sound cliché to talk about 'local-global,' but in fact that is precisely the path on which the Office of Study Abroad sets its compass. We have watched students' lives take new and positive turns from having an international experience. They participate in intercultural encounters that result in a new understanding of other ways of living and thinking.
We recognize that there are many ways you can help with our vision of connecting St. Thomas students to the world--maybe it's simply encouraging a St. Thomas student you know to study abroad or giving of your time here on campus. As well, your monetary gift--no matter what the size --also helps us tremendously in keeping St. Thomas students strongly connected globally. The gift you give to the Office of Study Abroad helps us continue to make a difference for our students and, indeed, both the local and global communities as well.
You can specify that your financial contributions directly support the work of the Office of Study Abroad. You may mail a written request with your contribution to the Development Office or make your gift online (see links below).
The Sarah Stevenson International Scholarship
The International Education Center staff established this fund upon the retirement of Dr. Sarah A. Stevenson in June, 2010. Dr. Stevenson founded the IEC in 1983. Over the next 27 years, she saw over 13,200 St. Thomas students study abroad and welcomed more than 2000 to campus from around the world.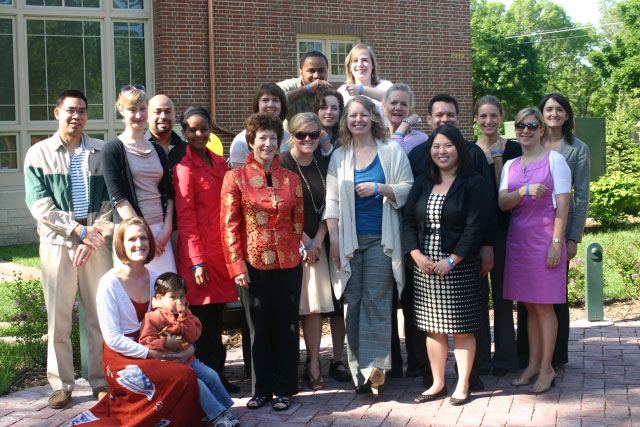 Dr. Stevenson's leadership and service embodied the goals of the University's Vision Statement: "to be a recognized leader in Catholic higher education that excels in effective teaching, active learning, scholarly research and responsible engagement with the local community as well as with the national and global communities in which we live." This fund will provide scholarships to both outbound study abroad students and inbound international students. Additional direct links to give are provided below.
The Study Abroad Annual Scholarship
The Office of Study Abroad established this scholarship to support undergraduate students studying abroad in any study abroad destination. This fund supports all terms of study including semester, year and short-term programs.
The London Business Semester Scholarship
This scholarship supports student participation in our flagship London Business Semester program. The London Business Semester gives students access to the culture and customs of Great Britain, builds lasting friendships through a cohort model, all while completing 16 business credits.

Please direct your online gift to one of the established funds specified below (clicking on the link below will take you directly to the specific program's online giving page):

In addition, consider making a gift to the Office of Study Abroad in your

estate plans

.

All of us in the St. Thomas Office of Study Abroad are truly grateful for your support. Thank you!

START EMBED CODE -->