This page is the brochure for your selected program. You can view the provided information for this program on this page and click on the available buttons for additional options.
UST: Roman Structures and Art - 2,500 Years of Contributions to Modern Society
Carrara, Italy;
Florence, Italy;
Naples, Italy;
Pisa, Italy;
Rome, Italy;
San Gimingnano, Italy;
Siena, Italy
(Outgoing Program)
There are currently no active application cycles for this program.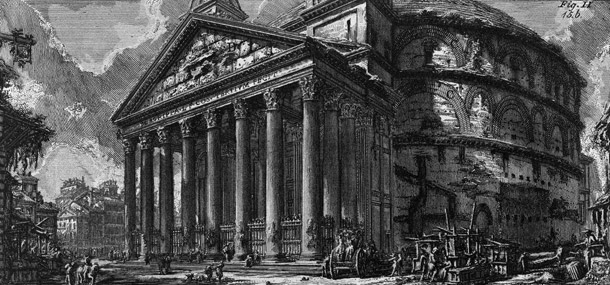 Program Highlights
Course will be taught by Professors John Walker and Barbara Zell who have a collective abundance of knowledge and resources about history, societies, and structures of Rome and Italy. The instructors have previous experience leading this course in Italy as well as escorting leisure travelers and other educational groups.
Lectures and presentations before numerous site visits help guide and increase students' knowledge of ancient Roman engineers and their contributions to modern-day society.
Special lectures will also be included at other university campuses; Sapienza University of Rome and the University of Naples Federico II.
Site visits throughout Italy, ranging from the Coliseum in Rome to the ancient city of Pompeii.
Prerequisites: None
Fulfills: Mechanical and Electrical Engineering major/minor elective
Academic Overview
Course Description
Modern Rome is a living tribute to the contributions made by the engineers of Ancient Rome and the Holy Roman Empire. Their legacies of art, architecture, public health innovations, design and construction techniques advanced the Roman rural society to an urban culture of well-defined principles and planning.
The course will be conducted mainly in Rome where many of the great Roman engineers (mostly anonymous) left examples of their work that exist today. Rome provides students with a wealth of ancient remnants of this sophisticated society; aqueducts, roads, forums and temples. The Roman contributions to modern society are everywhere. We will also take excursions to cities and the countryside outside of Rome to study their relationship to Rome from the perspective of their art, architecture, design and construction techniques. This course focuses on these contributions, and challenges the student to analyze and describe from his or her point of view several significant contributions from the ancient Roman engineers. We will evaluate examples in today's society and use ancient Roman history as a backdrop for these discussions.
Program Structure
This course consists of readings, lectures (including guest lectures by professors from both Sapienza University of Rome and the University of Naples Federico II), site visits, group discussions/reflection time, and attending cultural events. Students are responsible for a daily journal, active participation, and a final paper focusing on contributions of Roman engineering to modern society. Students will also develop an understanding of the value of Catholic Social Teaching principles throughout the course's activities and assignments.
Evaluation
10%
Attendance: all meetings and tours
25%
Participation in group discussions
35%
Daily journal
30%
Paper
Required Texts
John Walker - Roman Engineering and Structures
Judith Testa - Roma Amor
Location and TENTATIVE Dates
January 3 Depart for Rome, Italy
January 4 - 18 Activities in Rome
January 18 - 26 Travel and activities in Naples, Florence, Pisa, Carrara, Sienna, and San Gimingnano
January 25 Travel back to Rome
January 26 Return to Minneapolis/St. Paul
Costs:
$TBA
Housing and Meals
Students will stay in hotels during the program. A number of all-class meals will be provided on some occasions. Students will be responsible for the rest of their meals.
Application Procedures & Deadlines
Select the Apply Now button at the top to start your online application.
Login using your UST username and password.
Complete all application materials by the application deadline.
Download and read
Short-Term Off-Campus Policies and Procedures
. You are responsible for reading, understanding, and abiding by its content.
Final Application Deadline: October 1, 2014
Financial Aid/Scholarships
To apply for January Term financial aid, submit a January Term financial aid application, available in early November, to the financial aid office. Additional aid in the form of scholarships may also be available from St. Thomas and some co-sponsoring organizations. Refer to our Scholarships webpage for details. Review the
Short Term Policies and Procedures
guide for additional financial aid information. To verify and confirm all financial aid awards, meet with a financial aid counselor.
For More Information
For course content, application procedures or logistical information contact:
Prof. John Walker at 651-962-5764 (j9walker@stthomas.edu)
Prof. Barbara Zell at 651-962-5750 (bazell@stthomas.edu)